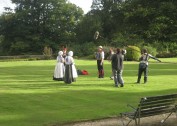 Escape in Time' presented by Ben Fogle and produced by the team behind 'Victorian Farm'
The historic country estate of Acton Scott in South Shropshire is the film location for a new BBC Two Daytime television series called 'Escape in Time', which is being presented by Ben Fogle. On air from 5 July 2010, at 430pm on BBC2.
Each week throughout filming in September 2009, two families had opportunity to try out 19th century farming on the same estate that provided the film location for BBC TV's 'Victorian Farm'.
'Escape in Time' shows how everyday families escape the modern world to rediscover the practical skills and self sufficiency of our forebears. They compete against each other, dressed in period costume, over the course of a week. The challenge involves mastering a wide range of tasks and crafts from the 19th century, including ploughing fields and felling trees, making butter, preserves and cider.
Produced by Lion Television, the new series of twenty x 45 minute programmes transmits on BBC Two from 5 July 2010. Many of the experts who advised the team from Victorian Farm have been invited to demonstrate tasks and help the families. Tom Acton and his son Rupert, who manages the Acton Scott estate, are assisting the production team and also cast a watchful eye over the endeavours of the families.
David Upshal, executive producer at Lion Television, said:
'It's great to be able to return to the Acton Scott estate with a new TV show. Both the Acton family and the staff of the Historic Working Farm have been enormously supportive of our efforts to get the show into production. Furthermore, we've had the opportunity to involve many of the experts we got to know through filming 'Victorian Farm', over the last couple of years.
'We're really excited about 'Escape in Time': Our families are based in a stunning countryside location and exploring the lost world of our rural predecessors; a world that has struck a chord with so many people - as the success of 'Victorian Farm' has shown.'
Rupert Acton, who manages the Acton Scott estate, said:
'Visitors to the Acton Scott estate have long experienced at first-hand the opportunity to connect with the simplicity and sustainability of a traditional rural life. This has now been recreated for our national television screens for the widest possible audience to also enjoy, providing a window into the lives of our 19th century forebears.
'Many of the skills that 'Escape in Time' will teach its families of contestants can be experienced at first hand at Acton Scott by visiting the Historic Working Farm, joining a course in traditional rural trades and crafts, or staying in our Victorian Cottage."