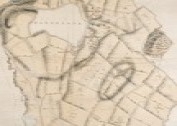 The Acton Scott Heritage Project enters a new exciting phase with a geophysical survey of fields partially excavated in 1844 by Mrs Francis Stackhouse Acton, when the Roman villa was first discovered.
Volunteers from the Shropshire County Council run, Heritage Lottery funded, project will be given basic training in the use of geophysical surveying tools. Project Officer Phil Scoggins says that geophysical surveys, of the types regularly seen on Channel 4's 'Time Team', form a vital part of modern archaeology because it enables archaeologists to 'see' underground.
He says: 'We hope that the survey will reveal the complete extent of the Roman villa complex. It is an essential first step that will lead ultimately to a trial excavation on the site in autumn 2008.'
Community Archaeologist, Hugh Hannaford, observes that ArchaeoPhysica, the geophysics contractor, have a good track record in identifying below-ground remains and in providing training.
He says: 'What is exciting is that it is highly likely that Francis Stackhouse Acton left much of the villa site untouched during her excavations in the 1840s and that there is much still to discover about the layout of the farmstead. Few Roman villas have been discovered in Shropshire so any new insights will be very welcome.'
Councillor Barbara Craig, Cabinet Member for Shropshire County Council Community Services welcomed the latest news from the project. 'It is excellent that community volunteers are able to be involved so directly in exploring the county's distant past', she added.
For more information visit http://www.discovershropshire.org.uk/